Indoor or Outdoor these batting cages give you the best hitting tunnel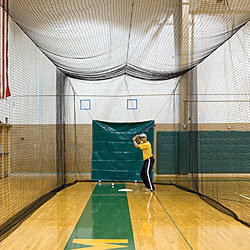 You just won't find a better batting cage.
What makes a Beacon batting cage so good? They're engineered to last and they're incredibly easy to set up and take down. Whether you need a hitting cage for indoors (Phantom Cage) or outdoors (TUFFframe Cage), we have a tensioned or modular solution for you. With supportive cables running the length of the hitting tunnel, our cages are designed to have better weight distribution to give you better windload and no scalloping, just a nice clear hitting space. Add soft toss net attachments and now you've got extra hitting stations to get more players working.
For on-field batting practice consider one of our batting practice moveable backstops. We also have great options for batting cage replacement nets, so take a look at all of our indoor and outdoor batting cages solutions and accessories.