Goalposts, Sideline Tarps, Chain Sets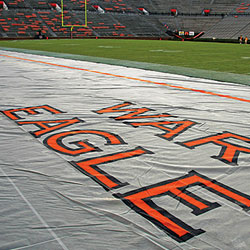 We're known for baseball and softball, but we also supply a lot to football fields as well. From football goalposts and goal posts padding to sideline protection tarps and first-down chain sets, we can outfit your football field — right down to goal post wind direction streamers. For more temporary fields, we have weighted sideline yardage markers and end zone pylons. To mark out your permanent football field, we have field marking sets to help you get it done right, for football or soccer.
Contact our team of experts with any questions you have regarding football goalposts, sideline protection tarps, or first down chain and flip indicator sets.