Pitching rubbers and pitching rubber anchors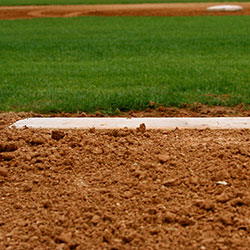 Whatever you need for your level of play, we have it. Permanent four-sided pitching rubbers down to spike down economy models. Our permanent step down rubbers for youth and adult also work well, as does our removable double stanchion pitching rubbers.
But when it comes to getting the best pitching rubber, there's really only one clear leader: the Bulldog Field Equipment Pitching Rubber. This baby boasts an amazing 40 lbs of rubber with a 3″ core center. That means it can really take it and they last longer than any other rubber. When you factor in labor and equipment costs of replacing standard pitching rubbers, you really end up saving money with the Bulldog.