Artificial Turf Inlays and Turf Logos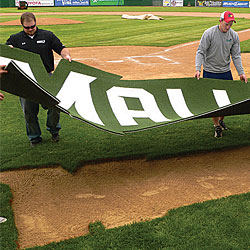 Turf inlays have both functional and aesthetic benefits on a ballfield. Field inlays can address turfgrass wear areas without converting an entire grass field to artificial turf. Simply cut out the grass in the exact shape of the inlay, back fill with sand or limestone fines, compact, and soak and you're ready to staple the turf inlay in place. We have solutions for several high wear areas including: mound halo and mound trapezoids, home plate halos, and coaches boxes.
Plus, we can also take your artwork or team logo and create beautiful color turf logo inlays to place into your field. They save you labor and paint costs with very little additional maintenance required after installation.