Home Plate, Mound Covers, Full Field & Infield Skin Tarps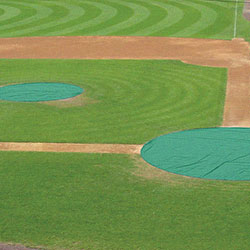 Protect your critical field areas from rain, wind, or even sun. You put a lot of time and effort into maintaining your pitcher's mound and home plate areas. Beacon's Area Tarps can make sure these areas are protected, and also the tarps and pitching mound covers themselves are made in the USA and will themselves wear well and last.
Our most popular field area tarp is the FieldShield mound covers and home plate tarps. These field tarps combine lighter weight with superior strength and better abrasion control. There's lightweight, medium, and heavy-duty field covers in 6, 8, or 18oz. Our Infield Skin Tarps use panels to cover either the areas from first to third, or the baselines to home plate as well. In either case, they're constructed with a durable, made-in-the-USA 6 oz poly that's light enough for easy handling, but tough enough for day-in, day-out use. Our Full Infield Tarps are also made in the USA and come in various weights.
With any tarp, consider the Beacon Tarp Cart System for easy transport and easy-to-handle rubber tarp weights. It just makes sense. Contact our team of experts with any questions you have regarding area tarps, field tarps, or tarp weights.