Monthly Specials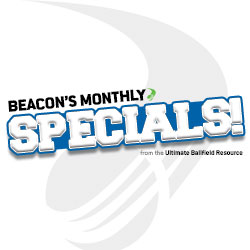 NOTE: More Deals are coming soon! Please check back tomorrow… thank you!
This is the place for great deals and superior value from the Beacon Store. Each month we'll highlight selected products from The Ultimate Ballfield Resource.
Our motivation is to help you work smarter with innovative products and to help you make your ballfields more playable and safe. We've been helping America maintain and improve its fields since 1948.
And remember, if you're not happy, we're not happy. If something's not right, we'll refund your purchase price and pay for the return shipping. We guarantee 100% satisfaction. Learn more about the Beacon Promise.
No products were found matching your selection.