Signs & Site Furnishings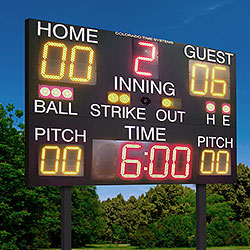 Add a level of professionalism to your facility and ballpark with clear signage. Our full line of ballpark signs let everyone — players, coaches, parents — know what they need to know all around your ballpark. Then bring ongoing, effective league communication to the ballpark with our message boards.
Beacon's outdoor park furniture and storage makes it easy to keep your park visitor-friendly while looking aesthetically appealing at the same time. Our long-lasting resinwood benches, picnic tables, outdoor signs, message boards and waste receptacles means they'll not only last but they stay looking good no matter what the outdoor elements throw at them.
There's all kinds of way to go with updating or installing a new scoreboard. If you are considering an electronic scoreboard one thing to keep in mind is that Little League baseball requires the management of pitching staffs by pitch count.
Consider the possibilities of sponsorship to support your league and facility by installing our custom graphics windscreen. Sell advertising or just extend your league or school brand to the outfield all with functional professional-looking windscreen.