Protect people and property from the sun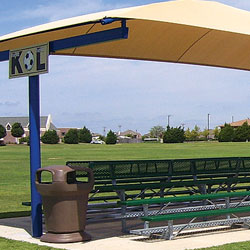 Soothing shade for all! Yes, providing a comfortable ballpark experience for athletes and visitors is your primary concern. But it's also a good idea to protect your facility's investments from overexposure as well. There are many ways to provide shade for dugouts, benches, bleachers, spectator common areas, and playgrounds. We have a structural frame to fit your needs — rectangular, square, single-cantilever, t-cantilever, 4-way cantilever, or our mega span shade structure for bigger areas. And with shade canopy fabrics coming in a variety of colors, your facility will "pop" with color!
Contact our team of experts for architectural drawings, specifications and pricing.