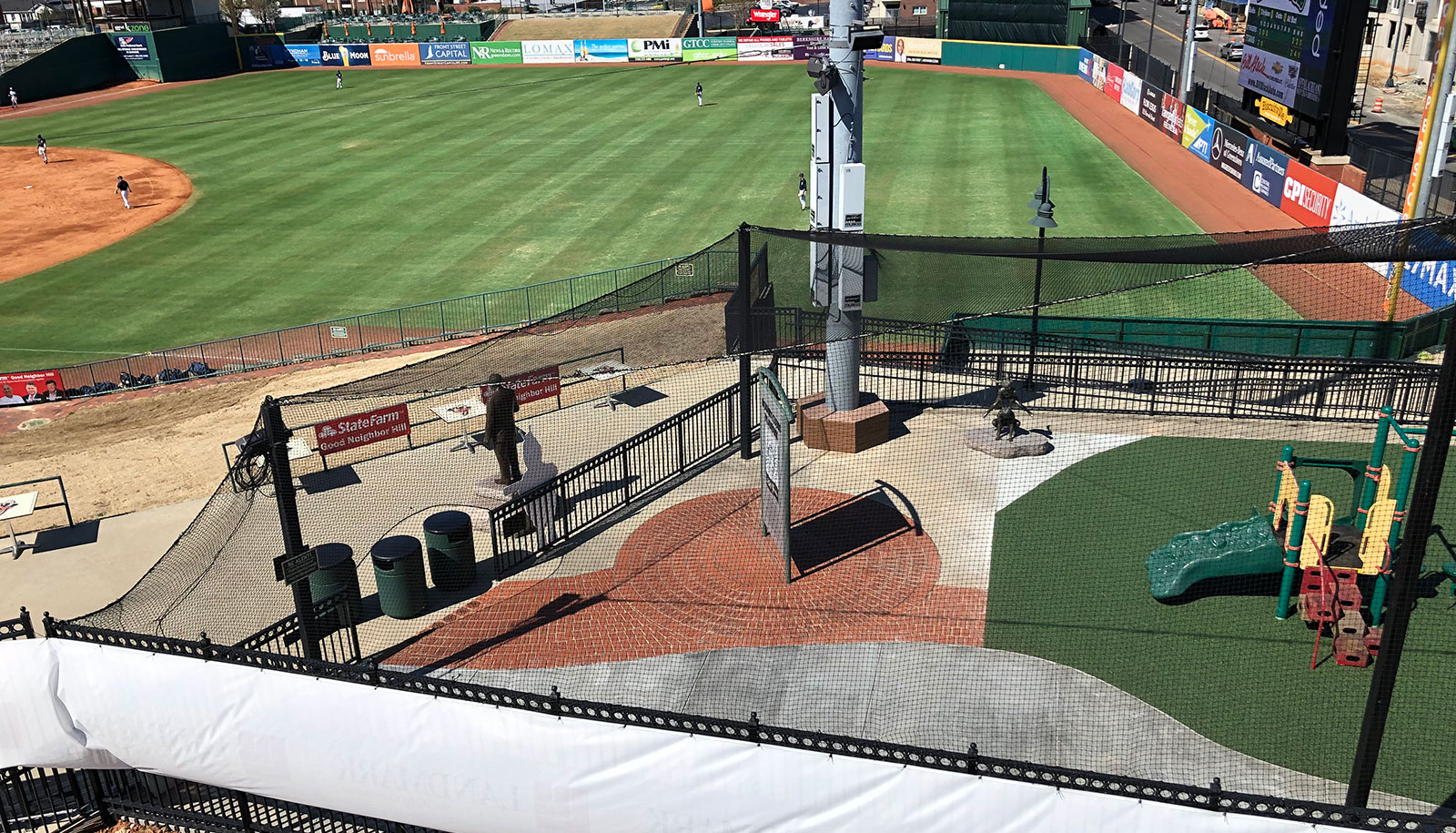 Challenging angles, a myriad of obstacles… no problem.
First National Bank Field | Greensboro, SC
The Pittsburgh Pirates Class A affiliate in Greensboro, SC, needed some help replacing the protective netting canopy. They needed a new solution for the netting over their children's play area off the right field fence line at First National Bank Field, home of the Greensboro Grasshoppers. The existing netting had reached the end of its life and needed to be replaced due to safety concerns. But this was not necessarily going to be a simple job to keep kids safe. Our expertise would become a huge factor in getting this right.
Our projects team got involved when Darryl Kennedy of Seegars Fence called to ask about providing netting panels. Darryl also asked us to advise his team on how best to fit the panels into a challenging space. Like many renovation projects, when the play area was added, it was shoehorned into very limited space and had multiple challenging angles and a myriad of obstacles around which the net panels had to fit.
We discussed multiple options with Darryl, including factory-finishing an array of different sized and shaped panels that would fit together like a puzzle. It was complicated, provided little room for error, and limited the installation team's ability to make adjustments on site. As we got to know the Seegars Fence team better, we recognized that they really knew their stuff, which allowed for the ultimate solution — providing rough-cut netting panels and raw materials. Seegars Fence would use these panels to fit and finish the odd-shaped panels on site.
We give enormous kudos to the Seegars Fence team for their quality workmanship as they skillfully fit our netting panels around all obstacles to deliver a beautiful play area for the ballfield that was once again safe for the kids and families using it. Congratulations to Seegars Fence and the Greensboro Grasshoppers on a beautiful project!
Learn More About Project Services View Engineered Netting Systems
---
"The space we needed to cover was very unique.

Beacon's deep knowledge of how netting should work and their ability to work closely with us really set them apart. Only Beacon could provide the expertise to get us just what we needed to protect our challenging playground space."
— Darryl Kennedy, Seegars Fence