Like many schools, Coastal Christian High School was confident a local contractor would capably install their new backstop netting system. They had worked with Beacon Athletics to design the system — just like ones we have designed for schools, colleges and professional teams across the country. Our backstop nets truly deliver an MLB-quality experience. But, like any installation process, even the best design and highest quality parts rely on a contractor who shares the same commitment to quality to get you the best result.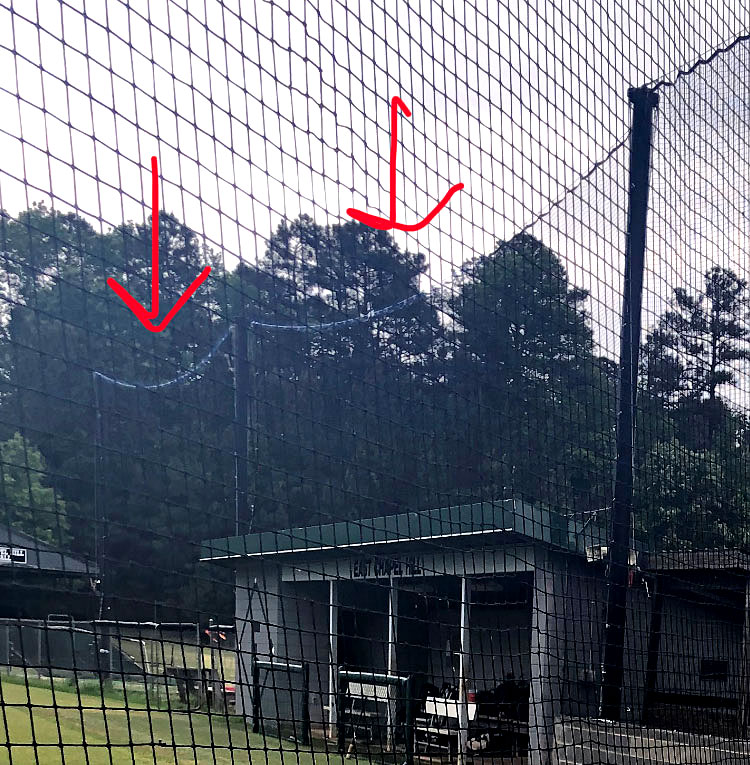 Unfortunately for Coastal Christian, the initial installation did not go as expected. A Beacon employee was onsite and noticed the nets were sagging, likely due to improper installation. They contacted Coastal's athletic director, Mike Scheffel, to discuss the options. We suggested one of our ballfield project consultants could step in to help fix the problems. After a thorough review of the situation, our consultant concluded that due to their contractor installing the poles incorrectly, a new net would be needed. But the good news was he would be able to install the new net in a single day and then make necessary adjustments to bring the backstop system up to the professional quality they had expected. (Scroll down for before/after comparisons)
With the support of Coastal's Head of School Brenda McCombie, the athletic department moved ahead with our plan for fixing the subpar installation. Within 3 weeks the new net was fabricated and our installation consultant was on-site at Coastal Christian. Not only was the new net installed correctly to our professional standards, but the consultant also trained Scheffel's staff on how to raise & lower the netting from the ground. With the school located near the Outer Banks of North Carolina, our unique heavy-duty winch system was exactly the combination of ease and strength that Coastal needs to standup to the sometimes rough Atlantic weather.
Scheffel and McCombie were extremely happy with the result. "We were very disappointed with the way the initial installation turned out. We weren't sure where to turn. But with Beacon's help, we were able to work with their consultant to truly rescue our ballfield," Scheffel "When we do our next ballpark project, we are going to make sure we include a Beacon consultant in the mix to work with a local contractor. We know now how important it is that Beacon is brought in to oversee the installation and make sure it is done the right way."